Lumbering Oaf (Deadmines)
For the Stonetalon Mountains mob, see Lumbering Oaf (Stonetalon Mountains).
Main article: Helix Gearbreaker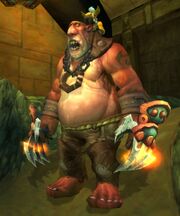 Lumbering Oaf is Helix Gearbreaker's favourite Hobgoblin and also his bodyguard. He is found in the Mast Room of the Deadmines.
Abilities
  Charge — Charges an enemy, stunning it. 
  Oaf Smash — Rams the enemy into the nearest wall, tree, or other hard surface, dealing heavy Physical damage. 
Patch changes
See also
External links