MOLL-E
MOLL-E
Toy
Use: Creates a portable mailbox for 10 min. MOLL-E is not destroyed after use. (1 Hour Cooldown)
Requires Engineering (425)
"Mobile Oversized Letter and Literary Extractor"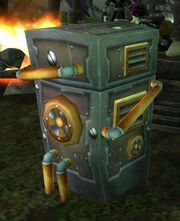 MOLL-E is a device crafted by engineers. When used, it creates a portable mailbox accessible by anyone for ten minutes.
Source
This item is crafted with Engineering (425); taught by trainers.
Trivia
Inspired by the title character from the movie WALL·E, which stands for Waste Allocation Load Lifter Earth-Class.
Patch changes
Reduced from 8 hours to 2 hours

Patch 3.0.8 (2009-01-20): Changed from common to rare item, cooldown reduced to 8 hours (down from 1 day), duration increased to 10 min, and can now be put into an Engineering bag.

External links