Ma'haat the Indomitable is a stone lord in Deepholm. He usually stands near Therazane's throne at her right hand. She personally calls on him to fight during

 [30-35] The Binding. He is her son, possibly her eldest.[1]
Ma'haat was sent from Deepholm to Neltharion's Lair in

 [50] Dominating the Indomitable where he is confronted by Spiritwalker Ebonhorn and a champion.
Locations
Abilities
  King of the Mountain — Smashes the ground, sending a cascade of falling rocks throughout the chamber. 
  Shattering Smash — Hurl a massive boulder that inflicts 55 Physical damage to enemies, then shatters into smaller boulders that each inflict 20 Physical damage. 
  Stomp of the Crucible — Stunned for 2 sec 
Quests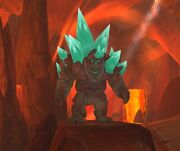 [45] 

A Taste For Blood

  [45] 

Return to Janai
Objective of
Quotes
Main article: Calming the Spine#Notes
Main article: Dominating the Indomitable#Notes
Gossip
Ma'haat go deep. Ma'haat collect shinies. Ma'haat hungry.
Unused
Look at this one. Standing bravely with earth beneath his feet, thinking to challenge me.

You got some sting in you, human.

You make a very tenacious corpse.
Trivia
Ma'haat is voiced by Kurt Kelly.

Voice clips were not used.
Patch changes
References
External links