The subject of this article or section is part of the Day of the Dead
, a
seasonal event
that lasts two days. Once the event has run its course, this will no longer be available until next year, but there are no guarantees.
Macabre Marionette
Use: Teaches you how to summon this companion.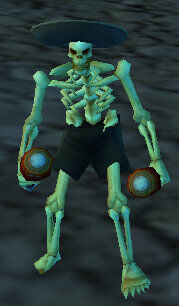 Macabre Marionette is a battle pet rewarded by the Day of the Dead quest

 [1-60] The Grateful Dead.
Originally, it could only be summoned during the holiday. This restriction disappeared when it became a battle pet in Patch 5.4.0.
Pet Journal
These possessed puppets are given a semblance of life by whimsical spirits of the departed.
Battles
Undead: Returns to life immortal for one round when killed, but deals 25% less damage.
2009 bug
In 2009, the Marionette had a duration bug. They could be removed from a player's inventory early if the player used a portal or entered an instance. Furthermore, many of them did not vanish as planned at the end of the holiday. This was "fixed" a week after the holiday when an update deleted any still remaining in player inventory.
Patch changes
External links
Battle pet types
Undead battle pets

Backbone

Carpal

Clutch

Lost Soul

Macabre Marionette

Maw Crawler

Micromancer

Mu'dud

Severs

Spinebug

Toenail

Torghast Lurker

Writhing Spine