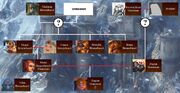 Madoran Bronzebeard was the ruling thane of Ironforge and the Bronzebeard clan before and during the War of the Three Hammers. The Bronzebeard clan, ruled by Thane Madoran Bronzebeard, held close ties to the High King and stood as the traditional defenders of Ironforge Mountain. Following the defeat of Thaurissan and the Dark Iron clan, King Bronzebeard offered the Wildhammers a place to live within the borders of Ironforge, but the Wildhammers steadfastly refused. He had the Thandol Span bridge built to maintain links with the Wildhammer clan of dwarves from the Hinterlands.
After his death, his and Khardros' sons had statues built to honor both he and Khardros Wildhammer in the Valley of Kings in southern Loch Modan.[1] They keep a constant vigil over the blasted lands to the south, site of the Dark Iron clan betrayal and defeat. Over time, his kingdom would pass into the hands of Magni Bronzebeard.
Notes and trivia
Early on the patch 8.1.0 PTR, Madoran's armor was the Bulwark of the Mountain King obtainable for dwarf heritage armor. Before the patch went live it was changed to belonging to Aegrim Bronzebeard instead, presumably to fix a timeline issue because the quest text to get the armor treated Madoran as a distant ancestor even though with dwarven lifespans he would only be the current Bronzebeards' father or grandfather.

The PTR also had Madoran's study at the bottom of Old Ironforge,[2] but like the armor it was reassigned to Aegrim before live.
References