Mage
Author(s)
Richard A. Knaak
Artist(s)

Ryo Kawakami

Pages
192
Publisher(s)
Tokyopop (2010)
Blizzard Legends
Publication date
June 1, 2010
March 17, 2020
Format(s)
Paperback
Retail price
US: $10.99 (2010)
$12.95 (2020)
ISBN 10
1427-81497-X (2010)
1945683627 (2020)
ISBN 13
978-1427-81497-5 (2010)
978-1945683626 (2020)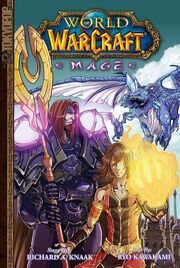 Mage is a World of Warcraft manga written by Richard A. Knaak and illustrated by Ryo Kawakami.
Aodhan was a boy born into a family of paladins and warriors, but his talents lay more with arcane magic. Forbidden to become a mage like his uncle Crevan, he ran away to Dalaran, where he started the lessons to become a mage.
Description
Aodhan comes from a lineage that includes some of Azeroth's most heroic paladins and warriors, but the whip-smart young man is not built for physical combat. He's thin, bookish, and desperately wants to be a mage. After his controlling father forbids him to practice magic, Aodhan flees to study the arcane arts in the city of Dalaran.
Aodhan's dream of becoming a powerful spellcaster is violently interrupted when a host of blue dragons lays siege to Dalaran. Although far from home, the young mage finds help from a relative who has been close by all along - Crevan, his magic-wielding uncle. The cunning older mage, after escaping from Dalaran's prison, takes the impressionable Aodhan under his wing, and together they work to prevent the city's destruction. But there is a darker secret behind Dalaran's dire situation, and Aodhan might be the only one who can end the schemes that threaten the city, becoming the hero his family never thought he could be.[1]
Characters
Mentioned
Trivia
"Quel'Thalas" is misspelled as "Qual'Thalas" in the second chapter.
Excerpts
References
External links

Amazon
 2020

Amazon
 2010

RichardAKnaak.com
 Manga, Graphic novels, & Comics