Mageroyal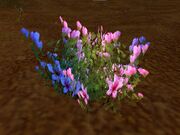 Mageroyal is an herb that can be gathered with Herbalism (50), or bought in limited quantities from selected vendors. Mageroyal seems to be edible, as it is used in the recipe for

 [Delicious Chocolate Cake]. It is also mentioned in The Worst Mage in Dalaran - A Children's Book, where it is described as "glistening". The last paragraph of this work would seem to imply that mageroyal grows where magical activity has recently occurred, though obviously in the game it spawns in preset nodes.
Forest Moths prefer to feed on Mageroyal nectar.[1]
Source
Mageroyal can be found on plains in low-level zones. Sometimes, players may find [Swiftthistle] while picking Mageroyal. It is also sold in limited supply by vendors, and is a reward from the Alchemy quest


 [8] Elixirs for the Bladeleafs.
As an ingredient
Alchemy
Cooking
Inscription
XP table
XP from Gathering Mageroyal

| Level range | XP gain on Gathering |
| --- | --- |
| 5 - 13 | ? |
| 14 | 100 |
| 15 - 16 | ? |
| 17 | 130 |
| 18 | 140 |
| 19 | 150 |
| 20 | 160 |
| 21 | 170 |
| 22 | 180 |
| 23 | 190 |
| 24 - 30 | 200 |
| 31 | 160 |
| 32 | 120 |
| 33 | 80 |
| 34 - 35 | 40 |
| 36+ | ? |
Patch changes
References
External links
Types of

herbs

Apprentice Herbalism

 

[

Mageroyal

]

Journeyman
Expert
Artisan
Master
Grand Master
Illustrious Grand Master
Zen Master
Draenor
Legion

Battle for Azeroth
Shadowlands