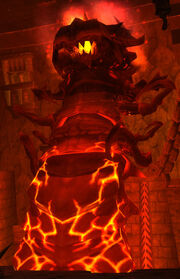 Magmaw is the first boss in Blackwing Descent, though he could be done second, after Omnotron Defense System.
Background
Adventure Guide
Magmaw is a colossal lava worm summoned from the Firelands centuries ago by Ragnaros' Dark Iron servitors. Nefarian largely considered Magmaw a worrisome pest, but has grown fond of feeding the beast his failed experiments... and servants.
Abilities
Strategy
At all times keep the ranged & healers in one tight bunch, at distance from the boss
Designate two ranged/healer spots that will be used alternately as needed throughout P1. Far enough apart to give you room to deal with worms, but not needlessly far because of time lost running. 20ish yards apart should do it.
Phase 1
Move the raid from one spot to another when Pillar of Flame is casting
Worms will spawn from the Pillar of Flame location. It is a good idea to have traps in place to slow them right from the start.
Kite worms around the raid and kill them. Misdirecting to a tank doing the kiting is useful. Using knockbacks is useful. The kiter should keep 8+ yards away from everyone else since being reached by a worm causes AoE damage (will show up as friendly fire). You can Also assign 2 spots in the room for the range to run back and forth between after a pillar of flame and drop traps and AoE slows on the worms as you switch spots and AoE them down as the all head towards the raid in a easy to kill clumped up group.
This phase is more about surviving and killing worms than anything else. You do not want to have worms alive in P2.
P1->P2 Transition
Magmaw covers half the room in fire (Ignition). Don't stand in it. The firey area is also where he will slump down shortly, stunning and damaging people straggling behind.
The tank will be picked up and be Mangled until the head is pinned down. Cooldowns can be used while Mangled, and Blessing of Protection does negate the damage.
Heal the tank being mangled.
The off tank should taunt Magmaw as soon as the main tank gets Mangled. This will prevent Magmaw from meleeing healers or DPS while the main tank is in his mouth.
When "Magmaw slumps forward, exposing his pincers!", have melee players pin the head down (using chains) quickly. To do this, right-click Magmaw as if entering a vehicle. One action will be available, which causes a targeting circle to appear on the ground below the cursor. Target the spike in the middle of the floor to attach the chain to the spike and pull Magmaw down onto it.
When the head is pinned down, you see "Magmaw becomes impaled on the spike, exposing his head!" and Phase 2 begins.
The tank will receive the armor debuff a after being freed, so a new tank is needed for the next P1.
Phase 2
This phase is about DPS for dpsers, and regenerating mana for healers.
Magmaw will take double damage.
DPS hard
Healers regenerate mana
P2->P1 transition
Aggro resets completely, watch it.
Remember to use a different tank from the previous P1 as that tank will be debuffed.
Single Tank tactics
It is possible to single-tank this fight, provided your healers are sufficiently geared and your tank knows what to do:
Aggro reset is only on the tank when he is mangled, and the 2/3 people who do the chains.
The tank MUST taunt during mangle and perform as many high threat ranged attacks during mangle as possible (as well as using damage mitigation CDs - particularly on the 2nd and any subsequent mangles as you will be 50% armour reduction debuffed during latter mangles)
If the tank fails to taunt during mangle, healers and melee will be single shotted during the P2->P1 transition, leading to a wipe.
Heroic tactics
Magmaw uses everything from normal mode (and hurts more, of course), with the following additions:
Meteors are summoned that spawn fire that tracks the nearest person.
The meteors also spawn Constructs that need to be tanked and killed. At 20% health, they start casting an explosion spell that hurts a lot. They need to be killed before the cast finishes.
You probably want to deal with all of this by putting the majority of the raid in melee range, and leaving a tank + a healer + maybe one more ranged dps out on the floor, so that they get targetted by Flame Pillar and the meteors. The tank spends the majority of his time kiting parasites.
The Constructs also need to be tanked. You can either use a fourth tank for this, or the currently-inactive (debuffed) tank, but of course that hurts a bit more.
There is also a final "burn phase" that starts at 30% health. Nefarian starts casting splash damage spells at the raid so you need to spread out to avoid instant death.
Loot
Related achievements
Quotes
Intro

Nefarian yells: I found this fascinating specimen in the lava underneath this very room. Magmaw should provide an adequate challenge for your pathetic little band.
Blazing Inferno

Nefarian yells: On second thought, what fun is an "adequate" challenge?
Low health

Nefarian yells: Inconceivable! You may actually defeat my lava worm! Perhaps I can help... tip the scales.
Death on normal difficulty

Lord Victor Nefarius yells: Finally someone to deal with that unsightly pest! You have my thanks, "heroes."
Death on heroic difficulty

Nefarian yells: You won? How... disappointing. I could have easily watched you all continue to stand in the fire.
Videos
10-man Heroic
10-man Normal
25-man Heroic
25-man Normal
Notes
World first heroic kill on 25-man achieved 29.12.2010 by Method of Xavius Europe.
Patch changes
External links

Icy Veins
 Comprehensive Magmaw guide (includes tank, healer, and DPS perspectives)