Not to be confused with Maiden of Drak'Mar or Maiden of Winter's Breath Lake.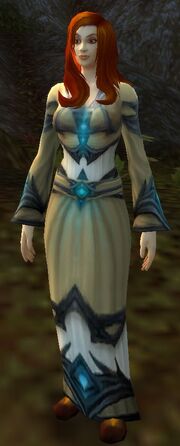 Maiden of Ashwood Lake can be found on the edges of Ashwood Lake in Grizzly Hills as part of the Argent Tournament. Players on the quest A Blade Fit For A Champion must use the

 [Warts-B-Gone Lip Balm] before blowing a /kiss to the Lake Frog critters around the lake. Blowing a kiss to the "right" frog (it's random) will spawn the Maiden, who players can then talk to to receive the
 [Ashwood Brand].
Objective of
Trivia
Patch changes
External links