For the tablet, see Mam'toth (object).
Mam'toth



Moorabi using the Avatar of Mam'toth.

Gender
Male
Race
Loa
Status
Active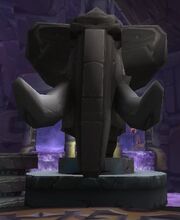 Mam'toth was a Drakkari mammoth loa. When he learnt of his worshipers' plans to sacrifice him to steal his power, he destroyed himself, his temple and all worshipers present, resulting in Mam'toth Crater.[1]
Moorabi was the high prophet of Mam'toth, who–despite Mam'toth having destroyed himself–drank of the loa's blood and gained some of his power in the hopes of defending Zul'Drak.[2]
Instead of having permanently died from destroying himself and his spirit several years ago, Mam'toth's spirit is found recovering in a wildseed in the Tranquil Pools of Ardenweald.[3]
Worshipers
High Prophet
Followers
Notes and trivia
The  

[

Medallion of Mam'toth

]

has the power to soothe enraged mammoths.
Mam'toth was the only confirmed loa to be permanently dead due to how he used his spirit to destroy his temple, an act even Har'koa said he wouldn't recover from.[1] However, this turned out to be wrong as Mam'toth survived regardless and now his spirit is recovering in Ardenweald.[3]
References
^ a b  [20-30] 

Blood of a Dead God

^ a b  [60] 

Taking Inventory