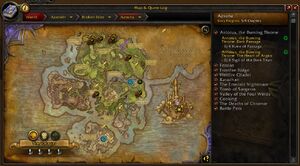 The Map & Quest Log interface contains the World Maps and the Quest Log. The interface can be opened with the default keybinds L or M.
Map
Explored areas:
Any area of the map your character has discovered will appear with details (buildings, cave entrances, etc).
Character locations:
Your character: Your character will appear on the map at the location as a grey arrow, pointing at your direction.
Party members: If your character is in a party, any party members will appear on the map at the location as a dot, colored in that party member's class color.
Map UI redesigned
In the patch 3.3.0 PTR, the World map UI feature has been redesigned and combined with the Quest Log feature.
Animation
Patch 4.2.0 introduced a new animation when opening the world map, however, opening the map now cancels any other action in progress such as fishing.
Quest Log
Main article: Quest Log
The Quest Log is found on the right-hand side of the interface, listing the status and details of all currently active quests the character has not completed, or completed but not turned in.
Gallery
Patch changes
Note: This list is extremely incomplete.
 

Expansion features