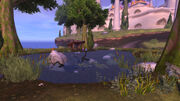 Margoss's Retreat is a floating island just northwest of Dalaran. It contains a large pond and a fishing shack where Conjurer Margoss dwells.
Aside from using flying mounts, the retreat can be reached using an
 [Emblem of Margoss] or by gliding from the northwestern part of Dalaran (such as with

[Glide],
 [Emerald Winds] or a
 [Goblin Glider Kit]). Conjurer Margoss offers teleportation back to the main Dalaran island.
Inhabitants
Patch changes