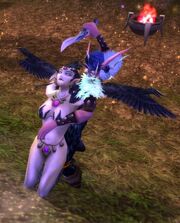 Marion Wormwing is a harpy located in Mount Hyjal. She leads the Wormwing matriarchy of harpies.
After she is subdued by Thisalee Crow and questioned, it falls to the adventurer to choose if Marion is killed or released.
Objective of
 [30-35] 

A Bird in Hand

- from  Thisalee Crow at the Shrine of Aviana in Mount Hyjal
Objective: Extinguish a Harpy Signal Fire to get the attention of Marion Wormwing. Fight her until Thisalee subdues her, then question the harpy matron.
Patch changes
External links