Marisa du'Paige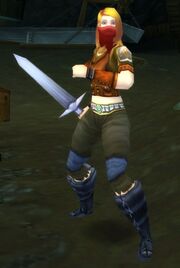 Marisa du'Paige is a rare human mage that spawns in the caves outside the Deadmines instance.
Abilities
Blizzard
Chilled
Frost Armor — Encases the caster in a layer of frost that lasts 30 min. The thick ice increases armor, slows melee attackers' movement, and increases the time between their attacks. 
Ice Lance
In the RPG

This section contains information from the Warcraft RPG which is considered non-canon.
A Defias mage and a skilled transmuter, Du'Paige is the daughter of one of VanCleef's most skilled lieutenants, who was killed during the Stormwind City riot. Marisa, a golden-haired woman in her mid-twenties, always had an affinity toward both magic and cruelty; and the Defias Brotherhood gives her opportunities to indulge in both. She oversees operations in the upper levels of the Deadmines and the training of magical adepts.[1]
Notes
Patch changes
References
External links