Marshal M. Valentine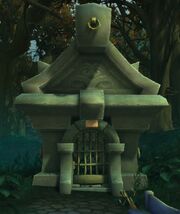 Marshal M. Valentine is a human soldier of the Second War. Captain of the Pride of Tiragarde, he died when the Third Fleet was attacked by red dragons. He has a grave at Barrowknoll Cemetery.
Years later, the Horde would look for his body by deep sea diving from the Horde ship The Banshee's Wail. They unpredictably found the body of Derek Proudmoore when finding Valentine.[1] After that, Valentine was raised as a Forsaken and sent to Boralus as an emissary to inform Katherine Proudmoore that the Horde held the body of her son. When the Kul Tiran navy arrived to try and retrieve the body, General Cadarin held Valentine hostage, demanding that Nathanos Blightcaller relinquish Derek in exchange for their man. Nathanos refused, stating that Valentine meant nothing to them. Cadarin proceeded to swiftly kill Valentine.[2]
Gallery
Patch changes
See also
References
^  [120] 

Grab and Go

^  [120] 

Life Held Hostage
External links