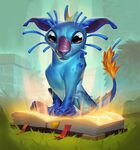 Marsuul are small creatures native to Argus. Most marsuul feed on fruit, but the
 [Felclaw Marsuul] prefers the juicy crunch of small rodents.[1] They lay eggs[2] and like to be petted behind the fins.[3]
Notable
Types
As a companion pet
As a hunter pet
Main article: Rodent#As a hunter pet
Marsuul are tamable by hunters as part of the rodent family, along with porcupines.
Notes
- We finished the space weasel, what do we call the model?
- I don't know, space weasel?
- We also made a fel one.
- A fel weasel? Heh, it's a Feasel.
- Heh.
- Heheh.
*moments later, Jeremy gets an email about new art assets and sighs heavily*
References
Creature group
Beast creatures

 

Arthropod

Arachnid
Crustacean
Insect

 

Mammal

Carnivoran
Ungulate

Bovids
Camelids
Cetaceans
Proboscids
Swine
 

Basic
Special

Acid Bite

Chi-Ji's Tranquility

Defense Matrix

Dragon's Guile

Feather Flurry

Fleethoof

Furious Bite

Grievous Bite

Infected Bite

Nether Energy

Niuzao's Fortitude

Obsidian Skin

Scale Shield

Spirit Pulse

Toxic Sting

Winged Agility

Exotic

Calcified Carapace

Dune Strider

Shimmering Scale

Bonus
Specialization