Mass Dispel

Mass Dispel
Level 42 priest ability
30 yd range
8% of base mana
45 sec cooldown
1.5 sec cast
Dispels magic in a 15 yard radius, removing all harmful Magic from 5 friendly targets and 1 beneficial Magic effects from 5 enemy targets.



Rank 2 (Level 50):

Potent enough to remove Magic that is normally undispellable.

Usable by
Class
Priest
Properties
School
Holy
Cooldown
45 seconds
Other information
Level learned
42
The bonds of magic shatter like broken glass in the grasp of an experienced priest.[1]
Mass Dispel is a level 42 priest ability that dispels magic within a 15 yard radius of the targeted area, dispelling all harmful debuffs from friendly targets and 1 beneficial buff from enemy targets, affecting up to 5 friendly and 5 enemy targets.
Notes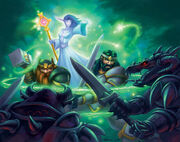 As of the patch 9.1.0 hotfix on 2021-7-20, when Mass Dispel dispels multiple targets, the order of dispels is now random. Prior to this hotfix, the spell targets those closest to the center of the green targeting circle first and then moves outward.
Mass Dispel is able to remove normally undispellable Magic effects such as

[

Ice Block

]

and

[

Divine Shield

]

.
For shadow priests, the mana cost of mass dispel is increased to 11.36% of base mana. This does not factor in the 80% reduction to shadow's mana pool size, causing mass dispel to cost more than half of the caster's maximum mana.
Trivia
Patch changes
See also
References
External links
Druid
Mage
Monk
Paladin
Priest

[

Mass Dispel

]

Shaman
Warlock