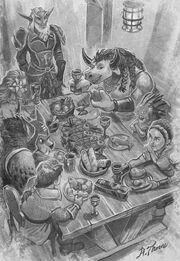 Master Thal'darah is a night elf quest giver located at the Thal'darah Overlook in Stonetalon Mountains. Worried for the druids of Thal'darah Grove, he sends an Alliance agent to rescue the Helpless Young Druids on his hippogryph. Thal'darah has a deep hatred for the Horde, and this burden only increased with the destruction of the grove.
Quests
Quotes
Dialogue
Elune help us.
Garrosh Hellscream, curse the day you were born.
Look there! The Krom'gar balloon is heading towards the grove! We must hurry!
The future of Kalimdor looks grim.

The Horde will pay for this atrocity. Hellscream must answer for this crime!

We teeter on the brink of annihilation. Is there no one left to help us?

We're too late. The grove is destroyed and with it our hopes and dreams.

What will become of us? Of Stonetalon?
Notes
Patch changes
References
External links