Matis the Cruel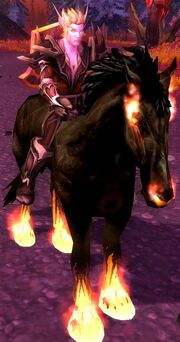 Matis the Cruel is a wandering blood elf located on the road east from the Vector Coil in western Bloodmyst Isle. His capture is required for

 [18G] Matis the Cruel.
Matis is the lieutenant of the man'ari eredar Sironas, the commander of the Sunhawks — the blood elves who battled the draenei for control of the Exodar, and are now attempting to retake it. Upon finding

 [Galaen's Journal] and discovering that Matis was responsible for the torture of Vindicator Kuros's mentor —Vindicator Saruan— Vindicator Kuros gives the player a flare gun and a contingent of his finest hunters in order to capture Matis, who patrols from the Vector Coil.[1]
After his capture, Prophet Velen oversaw the trial of Matis the Cruel and sentenced him to execution.[2]
Quotes
Main article: Matis the Cruel (quest)#Notes
Notes
Patch changes
See also
References
External links