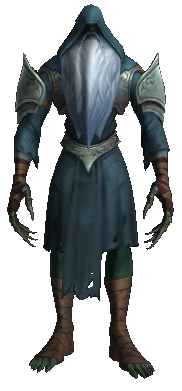 In the Maw, necromancers (occasionally referred to as Maw magi) are humanoids employed by the Mawsworn army. The Jailer all too well knows there is great power in the dark art of necromancy.[1]
Known
Notes and trivia
They have the same animations as a male human.
The Mawsworn necromancers appear more humanoid than the other Mawsworn.
They bear some resemblance to Harbaron, both being hooded and having long, white beards.
References
^  [60G3 Daily] 

Broker's Bounty: Nocturnus the Unraveler