This article is about the dungeon. For other uses, see Maw of Souls (disambiguation).
Maw of Souls
MoS



Maw of Souls graphic

Location
Stormheim, Broken Isles
Race(s)
 Kvaldir
 Vrykul
Flesh giants
End boss
Helya
Instance info
Type
Dungeon
Advised level
10-45
Player limit
5
The Maw of Souls is a dungeon in World of Warcraft: Legion. It is entered at Helmouth Cliffs near Tideskorn Harbor in Stormheim and then leads to the Naglfar[1] sailing across the eponymous Maw of Souls: an endless,[2] stormy sea separating the world of the living from Helheim.[3][4][5][6][7]
Background
Adventure Guide
While the greatest vrykul warriors are spirited away to the Halls of Valor to glory eternal, shiny and gold, the cursed and the damned find themselves on the shores of the Maw of Souls. Amidst fog and mist, they await the Naglfar, a fearsome ship formed from sinew and bone, which comes to deliver these poor souls to Helheim, and the clutches of Helya.
Maps and subregions
Maps
Subregions
Quest guide

Please add any available information to this section.

Encounters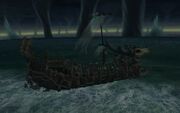 Loot
Achievements
Notes
This dungeon was named Helheim during the original announcement of Legion.
Patch changes
Hotfix (2016-11-03):

On Mythic Keystone difficulty, the portal to Stormheim should no longer be covered up by the Challenger's Cache.



Hotfix (2016-11-01):

Resolved an issue where Kvaldir Cage would remain stuck on a player.



Patch 7.0.3 (2016-07-19): Added.

References
External links
Template:Maw of Souls subzones