Maw storyline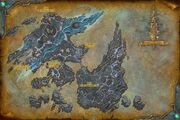 The Maw storyline is one of the two max-level parts of the Shadowlands campaign, and plays out in parallel to the Covenant campaign.
Level-up quests
Into the Maw
Players' first foray into the Shadowlands has them crash-land in the Maw during the Shadowlands intro experience.
Ritual for the Damned
Late in the Maldraxxus storyline, the Maw Walker is tasked to return to the Maw to retrieve a Baron of Maldraxxus.
Prince Renathal
Near the end of the Revendreth storyline, players are asked to return to the Maw again to retrieve Prince Renathal, which ends up sending players into Torghast for the first time.
Under the Jailer's Eye
At max level, midway through the first chapter of their covenant campaign, players are sent to the Maw to recover souls to power their covenant sanctum. While working on Ve'nari's tasks, adventurers see Baine get captured and sent to Torghast!
Recovering Baine and the Runecarver
After completing the first chapter of the covenant campaign, Bolvar Fordrgaon asks players to return to Torghast to save Baine. In the process, they will recover a key that leads to the Runecarver, crafter of artifacts (and legendaries).
New Rules
After the Maw Walker explores Torghast for the first time, Ve'nari adds more rules to her list, unlocking more of the Maw:
A Fateful Vision
After defeating Sire Denathrius in Castle Nathria (for

 [60R] Redemption for the Redeemer) and seeing Bolvar's vision of Anduin in

 [60] The Captive King, Bolvar reaches out to the Maw Walker, alarmed, and starts the final Patch 9.0 chapter of the Maw storyline.
Required prerequisite:

 [60R] Redemption for the Redeemer