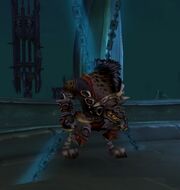 "MEATBALL HUNGRY!!"[1]
Meatball is the final encounter at Rank 4 in the Brawler's Guild. He also becomes a follower as well as a champion for class orders.
He can also be seen watching fights between garrison commanders in the Coliseum of Highmaul.
Meatball acted as a bailiff during The Brawlpub Trial and The Brawl'gar Trial.
He is found within Torghast, Tower of the Damned. If one frees him and suceeds in slaying Meatball's Tormentor, he will join the player's covenant as a champion.
Abilities
  Strange Energy — Emits magic energies when hit. Must have eaten something strange.

  Strange Feeling — The residual magic energy heals the player for 10 to 13% and increases damage inflicted by 20% for 20 sec. This effect stacks. Instant. Aura on player gained when running over orbs. Stacks 50 times.

  MEATBALL MAD! — Increases the caster's attack speed by 50% and the Physical damage it deals by 250%. The caster cannot be stopped.
Strategy
Do quick attacks to Meatball to get him to spawn purple orbs, which when walked over, provide a 20% damage buff that stacks up to 50 times. After getting the stack up high enough, pop cooldowns and unload before he berserks.
Meatball will need roughly 71K DPS, as he will go berserk 60 seconds into the encounter.
Quests
 [40] 

Meatball

 [60B] 

Meatball's Revenge
Quotes
Brawler's Guild
Intro

<Announcer> yells: And... Meatball.
Meatball yells: MEATBALL HUNGRY!
Taking hits
Meatball yells: MEATBALL BELLY GURGLE!
Meatball yells: MEATBALL BELLY HURTS!
Meatball yells: MEATBALL EAT WHAT MEATBALL WANT!
Meatball yells: MEATBALL FEEL FUNNY!
Berserk

Meatball yells: LOUD NOISES!

Kill

Meatball yells: MEATBALL EAT SMELLY THING NOW!

Death 

Meatball yells: BLLAAAGGGGHHHHH!
Torghast
Main article: Meatball's Revenge#Notes
Garrison
Gossip
MEATBALL HUNGRY!
MEATBALL LIKE TO FIGHT!
MEATBALL TUMMY RUMBLE!
MEATBALL BELLY GURGLE!
MEATBALL READY TO FIGHT!
Notes
Meatball dies at around 300K HP. He seems to explode... due to having eaten a gnome. Bort Fizzwaggle thanks you for freeing him, then observes that he needs a shower. Bort casts Teleport: Bort's Place and disappears.
Meatball becomes available as an Order Hall champion after a series of missions ending with  [45] 

You Beat the Ball of Meat

. He is a bodyguard and can accompany the player in the field.

While a bodyguard, he does not have a ground mount if the player mounts up and instead just runs on foot (likely because gnolls have no mount animation), but does ride a  

[

Disc of the Red Flying Cloud

]

in the air.
Speculation
| | |
| --- | --- |
| | This article or section includes speculation, observations or opinions possibly supported by lore or by Blizzard officials. It should not be taken as representing official lore. |
The fact that Meatball can be found chained in Torghast may suggest that he was captured by the Mawsworn in Azeroth, or that he found his way into the Shadowlands through the portal in Icecrown.
Patch changes
Patch 7.1.5 (2017-01-10): Meatball is available as a Champion.

Patch 6.0.2 (2014-10-14): Changed to Rank 4 from Rank 8. Meatball is also now available as a follower.

Patch 5.1.0 (2012-11-27): Added.

Reference
External links
Ranked

Rank 1
Rank 2
Rank 3
Rank 4
Rank 5
Rank 6
Rank 7

Challenge
Cards
Random Brawls

Rank 1
Rank 2
Rank 3
Rank 4
Rank 5
Rank 6
Rank 7

Rumbles
Removed
Neutral

Adventures companions category