Mecha-Mogul Mk2
Mount
Use: Teaches you how to pilot the Mecha-Mogul Mk2.
Requires Level 20
Requires Apprentice Riding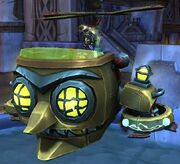 The Mecha-Mogul Mk2 is a mount.
Source
This item is created with Engineering (140); taught by

 [Schematic: Mecha-Mogul Mk2].
Mount Journal
The Mk2 is an updated design with a focus on comfort and reliability over firepower.
Notes and trivia
This mount is clearly a goblin-version of  

[

Mimiron's Head

]

.
During the alpha, the mount had the following journal entry:

The Mecha-Mogul Mk1 created by Mogul Razdunk is currently the top of the line in goblin head flying technology. The Mk2 is a slight variation on the design with a focus on personal transportation over mining and defense. It also fixes an embarrassing security flaw in the Mk1.
Patch changes
External links
Mount family

Dragonkin
Feathermane
Invertebrate
Mammal
Reptile
Other

Specific types

 

Mechanical mounts

Aircraft
Hovercraft
Robots

Rockets
Wheeled
vehicles

Trikes