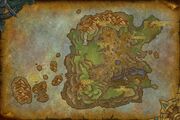 The Mechagon storyline becomes available to level 120 characters who have unlocked world quests in Nazjatar. Unlike other storylines it is not tracked in chapters, instead each individual quest is tracked in the achievement

 [The Mechagonian Threat].
Main story
Alliance
Horde
Finale
Daily quests
In order to proceed to the final quest of the storyline, the character needs to raise their Rustbolt Resistance reputation to Revered, which can be done by repeatedly completing daily quests (and a single world quest) from people visiting Mechagon. There are 2 random visitors each day, and as such, the quests available each day are different. Completing most of the quests is necessary for
 [Outside Influences]. The total list of visitors and their quests is as follows:
There are also other daily quests to do, not related to visitors. In some cases, dailies may be preceded by a normal quest:
Side quests
Mechagon fishing
A small quest chain involves fishing on Mechagon.
Upgrades for All
A small sidequest chain that unlocks the

 [Pocket-Sized Computation Device]
 [50] 

Upgraded

 [50] 

First One's Free
Quickcharge's Experiment
A side quest chain involving batteries and how to charge/recharge them.
Junkyard Tinkering
A side quest chain that teaches the player the basics of Junkyard Tinkering.
 [50] 

Junkyard Tinkering and You

 [50] 

S.P.A.R.E. Crates

 [50] 

This One's on Me
Making the Mount
After unlocking the Mechagon dailies, a series of quests is unlocked, through completion of which the player can obtain the

 [Scrapforged Mechaspider] mount. Note: You can only do one quest per day.
Other Sidequests