Mechanical Dragonling
Item Level

40

Use: Activates your Mechanical Dragonling to fight for you for 1 min.
Requires Level 30
Requires Engineering (200)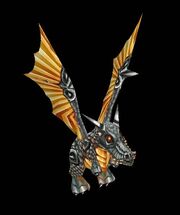 Mechanical Dragonling is a trinket that summons a mechanical dragonling guardian pet.
Source
This item is created with Engineering (200); taught by

 [Schematic: Mechanical Dragonling].
Notes
Using this item starts a 5 minute cooldown on this trinket, and a 1 minute cooldown on other guardian pet trinkets (such as the other mechanical dragonling type trinkets,
 [Defender of the Timbermaw], etc). This means that there is still some value in keeping older dragonling trinkets after creating new ones.
Patch changes
See also
References
External links