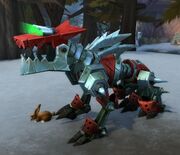 Mechanical wolves or mechanowolves are mechanical creatures introduced in World of Warcraft: Legion. Isaac Blastimov and Bamm Megabomb jointly invented them.
There are four of them that can be tamed, each a different color. In order for hunters to tame this creature, they must be at least level 100 and have used the
 [Mecha-Bond Imprint Matrix] or be a gnome/goblin.
Notable
Notes
References
^  [15-35 Daily] 

A Kind of Magic
Creature group
Mechanical creatures