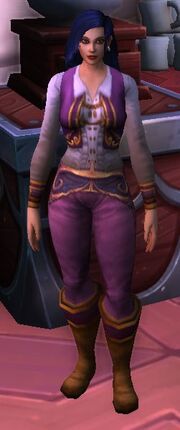 Mel Lynchen can be found in the Legerdemain Lounge in Dalaran.
Sells
Quotes
While players wear  

[

Stylish Spy Glasses

]
"Damn, <name>! Back at it again with the sweet shades! Nice!"
"Here comes, <name>... check out those shades!"
"Is <name> seeing anyone? Do you think I'd have a chance?"
"Look at <name>! There goes a rogue with a true sense of style!"
"Looking good, <name>!"
"Looking smooth, <name>! Real smooth!"
Argus appears
Ahh, <name>! Maybe you can settle something for us... Arille and I were debating whether or not the council had finished it's assessment. Any word?

Sometimes I wonder if we'll ever hear an answer as to why this is happening...

Oh no! Spilled another drink. Can't seem to keep my hands steady with all that's been going on around here.

Pull up a chair and take a load off. We know it can be hectic out there, so leave your worries at the door.
In Hearthstone

This section contains information exclusive to Hearthstone and is considered non-canon.
Lynchen appears as a legendary card in the Rise of Shadows expansion for Hearthstone. Her flavor text reads: "Thanks a latte!"
Patch changes
External links