Merchant Lorvo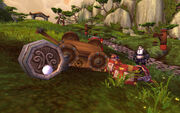 Merchant Lorvo is a pandaren quest giver found on the dock at Fu's Pond on the Wandering Isle, admiring Aysa Cloudsinger. He also sells low-level food (all types but cheese) and drink.
Sells
Quests
Quotes

 What do you have for sale?
First
I came to ask the famous Aysa Cloudsinger for help, but I just can't bring myself to intrude on her exercises. She's so poised, so practiced... so beautiful.
Quests completed
Thank you for bringing my driver back, friend.
Trivia
Patch changes
External links