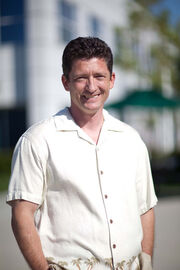 Micky Neilson was previously the Lead Writer in Publishing[1][2] at Blizzard Entertainment and Story Lead for Hearthstone. He had also been Senior Writer and Voice Director at Blizzard,[3] authoring comics and short stories set in Blizzard's three main universes. His work mostly involved expanded fiction outside of the game, but he had minor contributions to in-game content.[4] Having worked at Blizzard since 1993, Neilson left the company on March 25, 2016.[5]
Neilson worked on a range of titles, including World of Warcraft, the Warcraft RTS games, the Diablo series, the StarCraft series, and earlier titles such as The Lost Vikings and Blackthorne. In his time, Neilson worked in roles ranging from art, graphics and audio to a more recent focus on writing.[6]
While no longer part of the company, Neilson will still be working with Blizzard on freelance projects.[5]
Citing his desire to pursue personal projects, Neilson announced in his March 19, 2016 newsletter that his last day of work at Blizzard would be March 25, 2016. He described the parting as bittersweet, but is looking forward to doing freelance work with Blizzard Entertainment.[7]
Neilson played pandaren monk and Forsaken rogue.[8]
Micky Neilson issued his first 2021 Newsletter to announce his collaboration with artist Samwise Didier to publish his first Blizzard-themed book since departing the studios titled Forging Worlds: Stories Behind the Art of Blizzard Entertainment, slated for release on November 2, 2021.[9][10]
Warcraft bibliography
Former titles
References
External links
Interviews

BlizzPlanet
 Chris Metzen &
Micky Neilson
Pocket Star Books Lore Q&A Video Interview (part 1 and 2 videos and transcript)
Warcraft stuff starts about 7 min into part 1.
Other

MickyNeilson on Twitter

Micky Neilson
 Personal Website