Might of Kalimdor

Main leader
 Supreme Commander Varok Saurfang
Secondary leaders
 Highlord Leoric Von Zeldig
 High Commander Lynore Windstryke
 Duke August Foehammer
 Malagav the Tactician
Race(s)
 Night elf
 Tauren
 Orc
 Human
 Dwarf
 Troll
Base of operations
Cenarion Hold
Theater of operations
Silithus, Ruins of Ahn'Qiraj, Temple of Ahn'Qiraj
Status
Unknown (presumed disbanded)
The Might of Kalimdor was a combined Alliance-Horde army, under the command of the orc Varok Saurfang,[1] raised in response to the stirring of the Qiraji who were locked behind the Scarab Wall in Silithus. They were gathered at Cenarion Hold — in the center of the silithid hives that dominated the region — during the Ahn'Qiraj War Effort.
After Shiromar opened the Scarab Wall and the war ended, the members of the Might of Kalimdor splintered off to continue their duties in Outland and Northrend in the forms of the 7th Legion and the Kor'kron, presumably disbanding the Might of Kalimdor.
Saurfang's speech
Members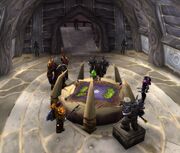 Commanders
Forces
Notes
Stories about the Might of Kalimdor can be heard in any of Orgrimmar's taverns.[2]
Gallery
References
External links