"Shadow priests, mon . . . dey can melt faces." — Ta'zo[1]
Mind Blast is a level 5 priest direct-damage spell. It is a quick and powerful attack with a small cooldown, and also generates insanity for Shadow priests.
While initially available to all priests,

[Holy Fire] replaces Mind Blast at level 19 for Holy priests.
Improvements
Ranks
Mind Blast features an additional rank for discipline and shadow priests. Though both classified as "Rank 2", they provide separate effects.
  Rank 2 — Discipline: Mind Blast prevents the next (300% of spell power) damage dealt by the target. Available at Level 18.
  Rank 2 — Shadow: Mind Blast's cooldown reduced by 7.5 seconds. Available at Level 13.
Specialization
Talents
Notes
Haste reduces the cooldown of Mind Blast.
While

[

Voidform

]

is active, Mind Blast gains a second charge, and its remaining cooldown is refreshed upon activation.

[

Dark Thoughts

]

will add a third charge to Mind Blast when it triggers during voidform.
Tips and tactics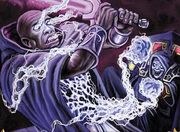 Mind Blast is a key part of any shadow priest rotation, and should generally be used on cooldown. As well as dealing substantial damage, it is critical for generating insanity for use with

[

Devouring Plague

]

.

An exception is while during

[

Voidform

]

. Devouring Plague and

[

Void Bolt

]

should be prioritized over Mind Blast.
Trivia
Mind Blast is a basic Priest spell in Hearthstone. The flavor text reads: "This spell blasts you directly in the MIND."
Prior to Patch 2.0.1, Mind Blast used to cause 100% additional threat, significantly limiting its use in PvE.
Though Shadow priests no longer use mana as a resource for damage, Mind Blast was again given a mana cost in Patch 9.0.1.
Patch changes
See also
References
External links
Mind Blast
Discipline
Rank 2
Shadow
Rank 2