The subject of this article was removed from World of Warcraft in patch 7.1.5.

This includes items and quests that can no longer be obtained or are now deprecated.
The in-game information in this article is kept purely for historical purposes.
Mind Spike

Mind Spike
Level 100 Shadow priest talent
40 yd range
1.5 sec cast
Assail the target with shadowy spikes, dealing (44.8% of spell power) Shadowfrost damage and leaving a spike embedded in their mind.

Mind Blast will detonate these spikes, each dealing 200% of their original damage to the main target, and 100% to all nearby targets.



Generates 4 Insanity.



Replaces

[

Mind Flay

]

.

Usable by
Class
Priest
Properties
School
Shadowfrost
Cooldown
None/Global Cooldown
Other information
Level available
100
Improvements

[

Void Ray

]

Affects

[

Mind Flay

]

Related debuff

Mind Spike
Embedded with Mind Spikes which Mind Blast will detonate, dealing an additional (89.6% of spell power) Shadowfrost damage to the target, and (44.8% of spell power) Shadowfrost damage to all nearby targets.
Duration: 10 seconds
Victims of a shadow priest seldom remember why they're victims.[1]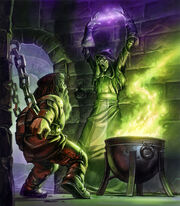 Mind Spike is a level 100 Shadow priest talent.
Notes
Improvements
Trivia
If a Priest uses the Shadowform spell in Hearthstone, their Hero Power will transform from

[

Lesser Heal

]

to Mind Spike. Using Shadowform a second time will cause Mind Spike to transform into "Mind Shatter", which deals an extra point of damage.
Patch changes
See also
References
External links