Mini Thor
Use: Teaches you how to summon Mini Thor.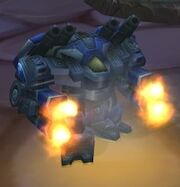 Source
Mini Thor <The Destroyer> is a vanity pet which you get from buying the Collector's Edition of StarCraft II: Wings of Liberty. The pet binds to the Battle.net account on which StarCraft is activated, and is given by mail to each and every character you create on that account.
Pet Journal
Powerful artillery of the terran army. The Thor is always the first one in and the last one out!
Description
Players are mailed this pet by The WoW Dev Team:
Mini Thor
It's time to bring the thunder with your new Mini Thor!
Battles
Mechanical: Comes back to life once per battle returning to 20% health.
Trivia
Mini Thor, the Wings of Liberty Collector's Edition reward, is based off the Terran unit.[1]
Patch changes
Patch 5.3.0 (2013-05-21): Starcraft 2 has been changed to StarCraft II in Mini Thor's source information.

Patch 3.3.5 (2010-06-22): Added.

References
External links
Battle pet types
Mechanical battle pets

Armored Vaultbot

Mini Thor

Squibbles