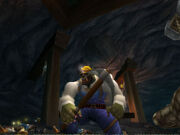 Roleplaying outfit that will make you resemble a miner.
Hat
There are several miner helms in game, some of which can only be worn by engineers.
For non-cloth
For engineers
Main Hand
There are three model of off-hand lantern; you can also use one of two non-combat pets created by enchanters.
Ball-shaped off-hand lantern
Box-shaped off-hand lantern
Diamond-shaped off-hand lantern
Lantern-pets
See also