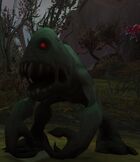 Mire creepers are small elementals in Revendreth. They skulk around the Endmire, feasting on residual anima and any prey in the area.
Known
Grimy Creeper

Slimy Creeper
Battle pet
Mire Creeper

and

Withering Creeper

can be caught from pet battles in Revendreth.
Trivia
They have the same animations as a murloc.
Creature group
Elemental creatures

Elements

Types
Variants

Air variant
Earth variant
Fire variant
Water variant

Other
Golem
Nature