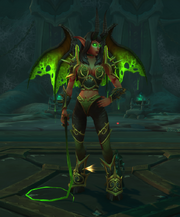 Mistress Dyrax is a shivarra located in the Theater of Pain in Maldraxxus.
Abilities
  Demonic Tutor — Dyrax manifests a Demonic clone of herself to challenge players. 
  Mass Temptation — Mistress Dyrax tempts enemies, charming them to fight for her until freed from the effect. 
  Rain of Felfire — Calls down a rain of felfire, burning all enemies in a selected area for 11 Fire damage every 1 sec. for until canceled. 
Clone
Drops
Gnawed Reins of the Battle-Bound Warhound
Objective of
Quotes
I'm not trapped down here with you, you're trapped with me!

Let's even up the odds, shall we!

We must do this again!

Is it time to play?
Notes
During beta, Mistress Dyrax was a succubus. Grandmaster Vole still incorrectly refers to Dyrax as a sayaad instead of a shivarra.
Patch changes
External links