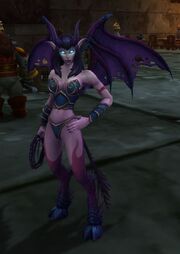 Mistress Nagmara is succubus minion of Plugger Spazzring, found in Blackrock Depths.
Nagmara works as a barmaid at the Grim Guzzler and is in love with Private Rocknot, one of the patrons.
She is also present in the area after the Dark Iron clan formally pledged themselves to King Anduin.
Quests

The subject of this section was removed from World of Warcraft in patch 4.0.3a but is present in Classic.
 [54D] 

The Love Potion
Players who completed her quest pre-patch 4.0.3a can suggest that she and Rocknot go out the backdoor of the bar for some privacy. This is the most pacifist means of getting the door opened.
Quotes
Gossip
Welcome to the Grim Guzzler!
Be sure to try our Dark Iron Ale. I hear the dwarves around here can't get enough of it.
My master, Plugger Spazzring, is a good boss. And he makes a lot of money. His pockets are bursting!
If The Love Potion completed
Thanks again, <name>. Rocknot and I are really hitting it off!

 Why don't you and Rocknot go find somewhere private...
Good idea!
Mistress Nagmara says: Hey, Rocknot!
Nagmara runs over to Rocknot.
Mistress Nagmara says: Let's go honey.
Nagmara casts

Nagmara's Love Potion

on Rocknot.
Nagmara leads Rocknot to the Bar Door, opens it and takes him down beside the ramp.
Mistress Nagmara kisses her lover.

Private Rocknot kisses Mistress Nagmara.
Trivia
Nagmara's name is an anagram of the word "anagram."
Patch changes
See also
External links