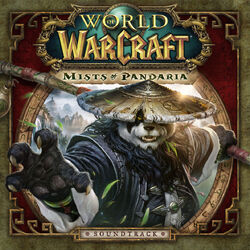 The World of Warcraft: Mists of Pandaria Soundtrack was composed by Russell Brower, Neal Acree, Sam Cardon, Edo Guidotti and Jeremy Soule. It was released together with the collector's edition of the game. The soundtrack can also be purchased via iTunes.
Description
Shrouded in mists since the world was sundered more than ten thousand years ago, the realm of Pandaria has remained unspoiled by war. Its lush forests and cloud-ringed mountains are home to the pandaren, a race that celebrates life to the fullest even while facing the rising darkness in their land. Now Pandaria has revealed itself just as the Alliance and Horde draw close to a devastating new conflict.
Explore this mysterious continent and its exotic denizens through a rich variety of new melodies. Have the mists of Pandaria parted to reveal Azeroth's salvation? Or will the battle to control this breathtaking land draw the two mighty factions into worldwide war?
Track list
Composers
Credits
Featured Musicians:

Erhu solos by Jiebing Chen
Guzheng solos by Cynthia Hsiang
Dizi solos by Chris Bleth

Additional Music by: Derek Duke
Live Sessions, Accordions and Orchestrations produced by: Edo Guidotti
Arranging & Orchestration by: M.W. Alexander, Penka Kouneva, Nick Greer, Kurt Bestor, Larry Kenton, Ira Hearshen and the composers
"Heart of Pandaria", "Why Do We Fight?" and "Serpent Riders" recorded by: the Northwest Sinfonia Orchestra and Chorus, contracted by Simon James & David Sabee
Orchestra recorded by: John Kurlander
Orchestral sub-mixes by: John Rodd and John Kurlander
Sound Design by: Chris Kowalski, Peter Steinbach, Michael Johnson
Album Produced by: Russell Brower
With special thanks to: Savina Ciaramella, Erika Sayer-Smith, Ana Paula, SEA Flute, Tina, Margaret and Karen Brower, Eímear & Craig, Margarita Kravets, Joellyn and David Acree, Penka Kouneva, Shelly Guidotti, Arlen Espinoza Asher, Nichole Robitshek, Dennis Booher, Rhubarb, Tammy Cardon, Scott Johnson, Billy Hearst, Gloria Soto and the Max Steiner Agency, Julian Soule, Ned Hearn, Ken Waters, Tyler Kim, Wes Dooley, Hazel Kurlander, Jay Maguire, Shane Dabiri, Keith Landes, Caroline Hernandez, Dennis Crabtree, Andrea Toyias, Tina Nguyen, Kevin Crook, Lynda Do, Joeyray Hall, Danielle Vanderlip, Randy Jordan, Chris Metzen, Frank Pearce, Mike Morhaime, Paul Sams and the entire Blizzard Entertainment Sound Department. We would especially like to extend our appreciation and love to all in our family of wonderful and cherished musicians--- Thank you!!!
Gallery
External links