For other uses, see Molten Core (disambiguation).
Molten Core
Publisher(s)
Upper Deck Entertainment
Type
Raid
Total cards
53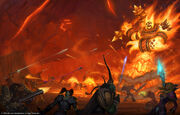 The second World of Warcraft Raid Deck, named Molten Core.
Set details
Card totals
Total cards: 89
30 Treasure Cards
10 double-sided oversized Boss cards
7 Rune cards
15 Main deck card (3 copies in 1 basic Raid Deck)
8 minion cards (3 copies in 1 basic Raid Deck)
13 Ragnaros deck cards (2 in each Raid deck)
6 ally tokens. Double-sided with multiples in each deck
Card list
Molten Core

Raid

Boss
Rune
Ability
Ally
Ragnaros Ability

Treasure

Ally Token
Standard Sets

Heroes of Azeroth Block
March of the Legion Block
Drums of War Block
Scourgewar Block
Worldbreaker Block
Aftermath Block
Timewalkers Block

Dungeon & Raid Decks
Preconstructed Decks

Class Starters - Retail

2011 Class Starters - Spring

2011 Class Starters - Fall

2013 Class Starters - Spring

Collector's Sets
Promos
Treasures

Caverns of Time Treasure

Dungeon Decks 2011 Treasure

Misc.