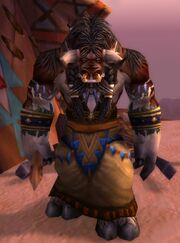 Montarr was a tauren reagent vendor located in Freewind Post in Thousand Needles.

This section concerns content related to Cataclysm.
During the Grimtotem attack on Freewind Post, Montarr was killed by the Grimtotem spy: Cliffwatcher Longhorn.
Sells

The subject of this section has been removed from World of Warcraft but is present in Classic.
Item
Cost
 

[

Ankh

]

21 5
 

[

Arcane Powder

]

10 52
 

[

Ashwood Seed

]

8 42
 

[

Bruiseweed

]

1
 

[

Demonic Figurine

]

1 5 26
 

[

Earthroot

]

80
 

[

Healing Potion

]

3 15
 

[

Holy Candle

]

7 36
 

[

Hornbeam Seed

]

14 73
 

[

Infernal Stone

]

52 63
 

[

Ironwood Seed

]

21 5
 

[

Kingsblood

]

1 26
 

[

Liferoot

]

3
 

[

Mageroyal

]

80
 

[

Maple Seed

]

2 10
 

[

Recipe: Shadow Oil

]

15 78
 

[

Rune of Portals

]

21 5
 

[

Rune of Teleportation

]

10 52
 

[

Sacred Candle

]

10 52
 

[

Scroll of Agility

]

2
 

[

Scroll of Intellect II

]

3 15
 

[

Scroll of Protection II

]

2 63
Scroll of Spirit II
2 50
 

[

Scroll of Stamina II

]

3 15
 

[

Scroll of Strength

]

2
 

[

Stranglethorn Seed

]

4 21
 

[

Symbol of Divinity

]

21 5
 

[

Symbol of Kings

]

31 57
 

[

Wild Berries

]

7 36
 

[

Wild Steelbloom

]

2
 

[

Wild Thornroot

]

10 52
Quests
External links