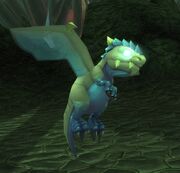 Moon-Touched Netherwhelp is a special nether whelp companion for Blizzard Entertainment's 30th anniversary.
Source
This companion is obtained by purchasing the Essentials, Heroic or Epic Celebration Collection Pack for the 2021 BlizzConline until 15 February 2022.
Pet Journal
A strange whelp hatched on Netherwing Ledge, it is thought to be blessed by the waning lunar energies of Shadowmoon Valley.
Battles
Dragonkin: Deals 50% additional damage on the next round after bringing a target's health below 50%.
Patch changes
External links

WarcraftPets
Battle pet types
Dragonkin battle pets