The subject of this article was removed from World of Warcraft in patch 4.0.3a but is present in World of Warcraft: Classic.

The subject of this article does not exist on the retail realms anymore.
The categories should reflect this, and should not include retail realm categories.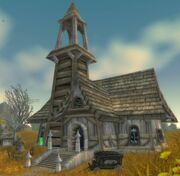 The building is located in Moonbrook around southern Westfall and looks somewhat like a town hall. There is a cemetery behind it. It is the building in north-westernmost Moonbrook. In the quest The Legend of Stalvan, one is sent to the schoolhouse to find a letter in a footlocker that appears in the main room of the ground floor, just short of the elevated part.
Patch changes
Patch 4.0.3a (2010-11-23): Subzone removed, now filled with vagrants.