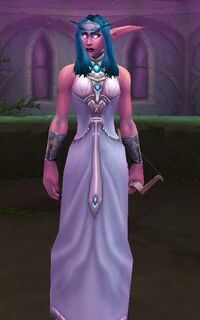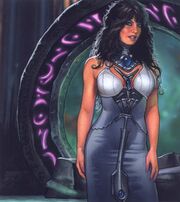 Mooncloth Robe is a rare chest piece especially made for Discipline and Holy priests.
Source
This item is crafted with Tailoring (300); taught by

 [Pattern: Mooncloth Robe].
Trivia
This was Tyrande Whisperwind's attire since the game's launch (although the item was not available to players until patch 1.3.0) and until she received a unique model in patch 4.3.0. Mooncloth Robes are still worn by some Priestess of the Moon NPCs (for example, Dentaria Silverglade) and often sought by Priestess of the Moon roleplayers, or just for looks or transmogrification.
Patch changes
See also
References
External links