For the night elf family line, see Moonfang (family).
| | |
| --- | --- |
| | The subject of this article or section is part of Darkmoon Faire, an ongoing event that lasts one week. Once the event has run its course, this will no longer be available until next month. |
Moonfang world boss located in the woods on western Darkmoon Island. She (and the rest of the Island) is only accessible while the Darkmoon Faire is active. Moonfang is a no tap mob, meaning all players of both factions that are on her aggro table are eligible for loot.
Her cubs grow into massive, slavering, black-furred killing machines...except for

 [Moon Moon].[1]
Summoning
To make her appear, kill Moonfang Snarlers which will make Moonfang Dreadhowls appear and finally Moonfang.
Stats
280,683 - 419,192 Damage
24,840 Armor
Abilities
Strategy
Dedicated tanks and several healers are recommended for the encounter.
Have tanks charge in and keep aggro on her. All players should run out of the Moonfang's Curse and Moonfang's Tears areas of effect (marked with white circles on the ground), and especially should get out of the way when she Leaps for the Kill.
Group up on Moonfang when she casts Call the Pack and AoE the summoned Moonfang Packmates down.
Notable drops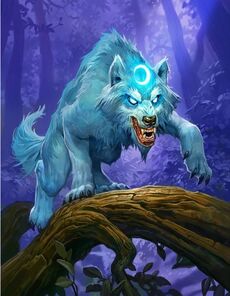 Trivia
Patches and hotfixes
References
External links