Mord'al Eveningstar
Use: Teaches you how to summon this companion.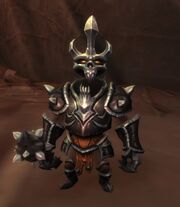 Mord'al Eveningstar is a miniature Maw guard battle pet, awarded to players who earn the achievement

 [Many, Many Things] by unlocking every perk at the Box of Many Things in Torghast, Tower of the Damned.
Pet Journal
A ruthless tormenter of the smallest souls. Some say he was known in life as "Thermaplugg."
Battles
Humanoid: Recovers 4% of their maximum health if they dealt damage this round.
Notes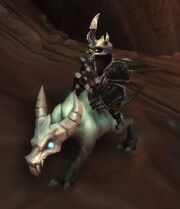 If his owner summons a ground mount, Mord'al will mount a mawrat to ride along with them.
Patch changes
External links