The subject of this article or section did not make it out of the beta stages of World of Warcraft.

The in-game information in this article or section is kept purely for historical purposes.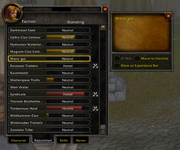 The Moro'gai was a faction of Lost Ones that existed in the World of Warcraft beta but was never implemented into the game. A few NPCs existed who were associated with this faction. A noteworthy example is Ar'lia, who was apparently supposed to be summoned by a number of gems.
NPCs
Items
External links