Mortal Coil
Mortal Coil

Mortal Coil

Level 75 warlock talent
20 yd range
2% of base mana
45 sec cooldown
Horrifies an enemy target into fleeing, incapacitating for 3 sec and healing you for 20% of maximum health.

Usable by
Class
Warlock
Properties
School
Shadow
Cooldown
45 seconds
Other information
Level learned
75
Related debuff

Mortal Coil
Incapacitated.
Duration: 3 seconds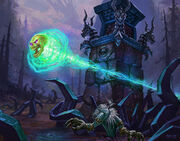 Mortal Coil is a level 75 warlock talent.
Trivia
Mortal Coil is also a basic Warlock spell in Hearthstone. The flavor text reads: "If your spells look like horrifying skulls, let's be honest, you should get to draw some cards."
Patch changes
Patch 7.1.5 (2017-01-10):

Healing is now 20% of maximum health (was 11%).
Now always heals you, regardless of whether the target is affected by the Horror.


Patch 7.0.3 (2016-07-19): Range reduced to 20 yd, from 30 yd.

Patch 6.0.2 (2014-10-14): Now shares diminishing returns with other mesmerize effects. Healing reduced to 11% (down from 15%).

Patch 5.0.4 (2012-08-28): Added to replace

[

Death Coil

]

.

External links