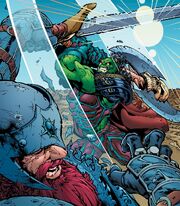 Mortal Strike is a level 5 Arms warrior ability. It is one of the most powerful and important attacks in the Arms warrior's arsenal, dealing substantial damage, applying a healing debuff.
Notes
Mortal Strike is one of Arms warriors' most powerful attacks. Arms warriors should use Mortal Strike whenever possible.
Mortal Strike also applies the

[

Mortal Wounds

]

healing debuff. This can be useful in PvP to stop enemy healers from healing a target your group is attempting to focus fire on.
The healing reduction effect does not stack with any other healing reduction effect.
The 4-piece set bonus from the warrior's Tier-8.25 set, Conqueror's Siegebreaker Battlegear (level 80) gives a 10% increased chance to crit with Mortal Strike.
Trivia
Mortal Strike is a rare Warrior spell in Hearthstone. The flavor text reads: ""If you only use one ability, use Mortal Strike." - The Warrior Code, Line 6"
Patch changes
See also
External links