Mortanis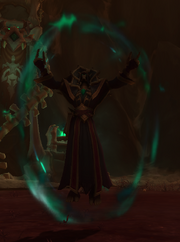 Mortanis is a boneguard world boss located in the House of the Chosen in Maldraxxus while the world quest

 [60EEWQ] Mortanis is available.
Baron Vyraz ordered Head Summoner Perex to summon Mortanis. Perex found this to be a preposterous idea due to the anima drought and messaged Vyraz back that he'd need to "scrounge up some anima if he wants his boneguard",[1] which is apparently also what happened.
Adventure Guide
One of the most studied necromancers of the House of Rituals, Mortanis has been working tirelessly on a means of transforming himself into a more powerful form. Now, he is only a few moments from succeeding.
Abilities
Drops
Quotes
Spawn

The ritual will not be disrupted! Bones of the fallen, awaken and greet our visitors!
Necrotic Ritualist slain
A willing sacrifice for the House of Rituals!

Their bones will only strengthen my vessel!

This too, has been foreseen!
All Ritualists slain

Your disturbance matters not, for the ritual is complete.

Mortanis transforms into a massive boneguard.

Behold, my new vessel awaits--a form more befitting of a true master of death!
Spine Crawl

The bones call for you!
Screaming Skull

The skulls of the fallen cry for vengeance!
Lord of the Fallen

The power of Maldraxxus flows through me! I am the face of death!
Death

Gra ha ha, it is fitting that it took... so many of you... to fell me...
Trivia
Patch changes
References
^  [52] 

Maintaining Order

^ Lex Lang on Twitter (2020-11-25). Archived from the original on 2020-11-25.​ "Catch me as Dark Kyrian Ascended, Margrave Gharmal and Mortanis in the new World of Warcraft Shadowlands! [...]"
External links